About Me
My WONDERFUL HUSBAND lost his battle with Cancer on July 4, 2010. He had just made it home from the hospital the previous afternoon. Dave was just 49.
We were so blessed to have taken a Vacation with our 2 boys and our older sons girlfriend to Florida the end of May beginning of June. While whe were there Dave & I renewed our wedding vows with our children present.
Dave will be in our hearts, thoughts and prayers forever.
Rest in peace my love.

Our oldest son graduted from a Connecticut Catholic University in May 2010. Our youngest will be in his second year at a State University.
I enjoy cooking so I cook most every night when I get home from work. Lately the Two Boys have been very busy with kick boxing, martial arts training and work. I just joined a gym in our area to get more fit and healthy.
I have so many cookbooks but I find alot of my time is looking at new recipes here. I just LOVE this site and tell everyone about it.





[IMG]http://i275.photobucket.com/albums/jj294/QueenBee49444/ZaarCasseroleDishes.jpg[/IMG]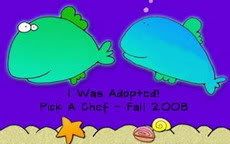 Favorite Foods
One of my FAVORITE restaurants is in Bethesda, called Olazzo.

I enjoy trying different foods. I am not very fond of the gamely meats and organ meats, but I do try to try everything.

I am known for my Spanish rice and mac salad. I am often asked to make them.