About Me
My husband likes to say I'm a country girl with "citified" tastes. I grew up on a farm, still live on a farm, I'm a mom, wife, and a high school teacher. My time is precious, so I like to find recipes that are quick, easy and still taste good!

On Friday nights in the fall, you'll find me at the football field watching my son... before the game, you'll find me and a few other moms serving the entire football team home cooked food. They say they can't win without my mac and cheese... and let me tell ya, Mac and Cheese for 80 football players isn't quick OR easy. :) I make it the day before, and my hubby who uses his vacation days for football and wrestling matches, sticks it in the oven for me and brings it to school.

During wrestling season, you'll find me sitting in the stands, usually with a lot of hungry wrestlers digging around in my totes to see what I brought. :)

We raise our own beef, we have several peach, apple, cherry, apricot, pear and plum trees, we raise a large garden and I can, freeze and dehydrate as much as I can. I also can my own jams, jellies, sauces, etc... make my own noodles, breads, pie crust with lard and cook with REAL butter and cream.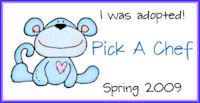 Favorite Foods
traditional "country" fare, meat and taters, especially mashed potatoes, biscuits, rolls, gravy, pie, and of course PIZZA. LOL

I love to entertain, and I love to try new recipes on people. I love to serve a huge variety of appetizers, and am always looking for that next great recipe that will make everyone ooooh and ahhhhh....