About Me

Here is the 15 pound hamburger at the famous Denny's Beer Barrel Pub, near our home. Usually the toppings (to the left of the picture) are on the hamburger, making it HUGE! It took us, 6 adults and 8 kids, about an hour, to finish it off. If you would like a challenge, go to www.dennysbeerbarrelpub.com

I am a SAHM to four, wife of my highschool sweetheart, on a quest for easier, cheaper, tastier meals for the picky crew! Made a 2008 New Year's vow to make a new recipe at least once a week. With this site, it was more like once a day, I made almost 300 new recipes in one year. Whoo-hoo!
My passions are cooking meals my whole family will eat, gardening (especially perrenials), and photography. I am raising chickens (as organically as possible) partly for the eggs and partly because I miss living on a farm.


chicks at four days old



hens at 4 months old


Here is a pic of our first 2 eggs, right on time, when the hens turned 5 months old. We are now getting around 100 eggs a WEEK from our 20 hens. Anyone for an omlete?


Daisy, one of my New Zealand bunnies

My biggest pet peeves right now are kids whining over homework and chores, and the rising cost of food and gasoline. So we have cut out alot of junk food and canceled vacations. I refuse to support the oil barons! (Sigh, I do need to heat the house this winter though.)


A river near my house



my kids fishing


My first attempt at canning by myself, "recipe#57234".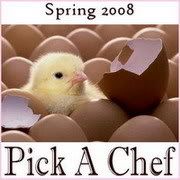 I had the pleasure of adopting the following people and their wonderful recipes:
chef#778296,chef#169130,chef#366730,chef#237330,chef#176615,chef#67248,chef#506626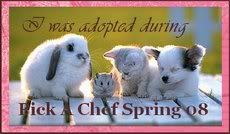 I was "adopted" by chef#186802, who took my very first "picture." Thanks VickyJ!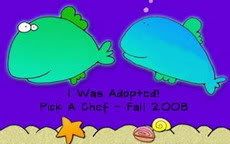 Thank you chef#114027 for adopting me this fall.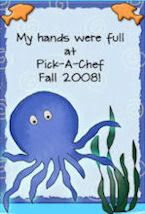 If you want to be adopted by me, you must fill out your about me page, I just love reading about other chef's lives!



Thanks for swapping with me chef#4439!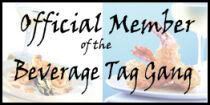 Create your own visitor map!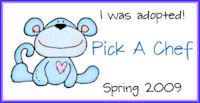 Favorite Foods
Favorite foods right now? hmmm, beef stroganoff, broccoli salad with dried cranberries, any coffee as long as it has lots of french vanilla creamer in it. Oh, and Tang.(I don't know why!) The only foods I am famous for is my twist on the chocolate/cherry dipped/Hershey kiss mice that I make for my husband's workplace at Christmas time. I made about 80 of them last Christmas. Or maybe chef chef#37305 's recipe#29679, people are now asking me for that recipe.

We enjoy cooking in my grandmother's cast iron skillets and also cooking over the backyard firepit.


My favorite restaurant is any place that I can eat in peace and quiet and be served politely. Of course, I try to order something that I couldn't or wouldn't make at home. Got to try something new!


The recipes I have posted aren't anything new, I am just posting them so I don't lose them in my caotic household.

5 4