About Me
I am proud to have participated in PAC Spring 2009:


And I am thrilled to have been adopted, too!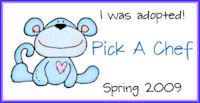 Favorite Foods
I love Italian-American food like pizza, lasagna, and baked ziti. I wish we had a good Italian restaurant locally. I also love Tex-Mex food, and my favorite local restaurant is Los Nopales. I don't really like mushrooms (texture) and I can't eat raw tomatoes (bad experience with them), but I am a chocolate fiend and in the summertime I love all the fresh fruit I can get my hands on. I look forward to asparagus in the spring, watermelon and BBQ in the summer, and pumpkin anything in the fall. Winter means soups and stews and hearty bread.
I pack my kids' lunch every day so I like easy healthy lunchbox options. Of course, if my DS had his way he would eat the exact same thing every day. Once I find somehting that he will eat, maybe that's exactly what I'll do.
---
Over 475,000 Recipes
Food.com Network of Sites