About Me
My ancestors are Spaniard, my immediate roots are from Mexico, born there, but raised in Southern California, what a mixture of cultures. Now just imagines all the recepies twirling around my head that I'm willing to share with this wonderful community. Anything hot and spicy full of flavor would be my ideal dish.
Love to enjoy a great flavorful meal, it dosen't matter if it's just appetizers or a full course meal, flavor needs to be present.
A good drink by its side and a quick "siesta" would close the deal. One of my favorite passtimes is trying to create and have family and friends experiece with me new recepies. It's awsome when they tell you "Where did you get this recepie?" or "Can we have seconds?" I live in Southern California, have been here for more then 37 years, different ethnic groups compliment our communities, by the way, I see that as an advantage, we get to experience different cuisines from all over the world and is only normal to us. I love Sandra Lee's Semi-home made cook meals. I believe she has made life so much easier to all of us working moms. No need to start from scratch if there's shortcuts available on a busy night. One of my passions of course is cooking but also I enjoy walking the pier at our local beach, all the way to the end. Nothing to see exept the ocean and waves dancing along to their own rhytm. The best form of relaxation for me. I have 3 kids, two beautiful daughters and a handsome son oh, and let's not forget "Keyno" our pet water turtle, he thinks our home is his domain, lol.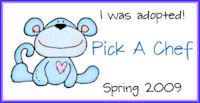 Favorite Foods
Love Mexican, Italian, Southern Country Cooking. A good serving of Tamales, Lasagna or an old Country Chicken Fried Steak, those are my favorites. I enjoy going out to different restaurants and checking out their food, but honestly, nothing beats a home made meal. One dish that I just can't get away from making are the "Frijoles Puercos", everytime there's a family gathering or event that I am invited to it's the first thing they request for me to share. They say that cooking can win over your man's heart, I agree. My husband (R.I.P.) loved it when I made big holiday meals. He ate alot. I think if I would of served him just plain boiling water he would of enjoy it also, lol. I know it might sound strange but sometimes I'm in a cooking mood of all his favorite recepies, and when I serve dinner automatically my kids and I end up remembering the good all times with him, he's been gone for 8 years now, but he will never be forgotten. Food was his passion as well as mine.