About Me
Hi! I live in Wisconsin where I love my job as SEHM (senior executive household manager)...I used to stay home with my 2 children, except now they're both in school full time which means I have more time to devote to sale shopping, trying new culinary delights and of course enjoying coffee with friends on a regular basis.

I like to scrapbook, run, read, play Balderdash and (did I mentions this already??) have a great conversation over a great cup of COFFEE. My husband and I are so hooked on java that we have taken our addiction to the next level by roasting our own coffee. There is no better way to drink it in my opinion!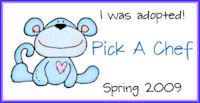 Favorite Foods
I love baking. Baked goods go so well with coffee - did I mention I like coffee? I'm especially fond of cookies and anything involving homemade lemon or lime curd and my tart pan!!

I like to use fresh local veggies, fruits and herbs if possible. Since we have a long winter here I'm fortunate to have a great Fresh Market nearby, but come summer I'm a Farmer's Market groupie!!!

I am "famous" for my chili and my roast pork with sage and potatoes. My husband says my carrot cake is the best - I'll take his word as carrot cake is not one of my favorites.

Other than cantaloupe and coconut I'll eat anything. I'm adventurous and enjoy trying new and different dishes, cuisines, ethnic foods etc. If I had to pick an ethnic cuisine it would be Mexican - my Rick Bayless cookbooks get a LOT of use!!
---
Over 475,000 Recipes
Food.com Network of Sites