About Me
I love food even though i am a picky eater. Anything processed is a No.
My cooking is a mixture of Asian , European and Arabic recipes.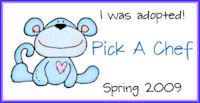 Favorite Foods
I loooove ice cream especially home made ice cream.. i am absolutely addicted to cheese and here in britain we get some nice cheeses.. i love goat's cheese with caramelised onion relish and plenty of rocket or brie or port salut or gorgonzola.... i could keep going on!! unfortunately cheese is one of those things that come with a huge 'calorie price tag' as i call it :) so it's my special occasion treat.
Most of my day-to-day meals consist of huge amounts of vegetables of all kinds and occasionally some chicken or beef.
King prawns are another favourite of mine! all they need is some garlic and a hot griddle pan.. YUM!!
---
Over 475,000 Recipes
Food.com Network of Sites