About Me
.hi,I'm Nougat, born and raised in Minnesota and was transplanted to Montana nearly ten years ago. It's beautiful here, the mountains are awesome!
I'm definitely more of a cook then a baker, sort of odd maybe, because I work in a bakery. But, it's a job!
DH and I like, well, let's see, quiet evenings with favorite t.v. shows and me in the kitchen cooking! I love to cook, and never get tired of trying new recipes from this wonderful site! DH is the happy guinea pig.
We have a garden in the summer, and we like to go boating and fishing. No kids here except the animals which consist of two dogs and two cats, they've all been adopted from the local humane society. I could go on and on about them but once I get started on their personalities I'd likely carry on forever. Bailey, is our big goofy lab cross, Telly is the alpha shitzu/american eskimo mix, and the cats are Claire and Jenny, blue blood Siamese and slick black cat respectively.
I love to read and collect cook books, many of which I find at the garage sales we like to visit. I have so many it would be impossibe to name a favorite, I can sit and read them like a novel, which, I enjoy also.
My passions are, first my love for nearly all creatures, I have the original soft spot and if it weren't for DH they would be everywhere! And, second, I love to cook.
My favorite foods are varied. Comfort foods mostly, casseroles, soups, etc. I also love Mexican food, Chinese, and I always like to try new stuff, although I don't get too fancy. I try to find something new at least once a week. DH likes to cook as well but, the spirit has to move him. He makes the best egg drop soup I've ever tasted.
My number one pet peeve is people that have animals that don't take care of them, cruelty in any form, breaks my heart.
Also, self-centered and incosiderate people waste my time. Politeness sometime seems like a lost art.
That's about it, I'm looking forward to trying new recipes and perhaps making some new friends at Recipezaar!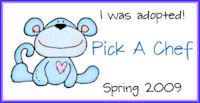 Favorite Foods
My favorite foods vary depending on my mood. I love breakfast, most anything with eggs. Comfort foods, casseroles, and pastas, and I adore Mexican spicy foods and Chinese cuisine. I cannot stand sushi or sea weed, (tried it),liver, spinach, garbonzo or lima beans. I will try anything (I think), once.
Our favorite restaurant is The L&D Chinese Buffet. We have a standing lunch date there every Saturday.