About Me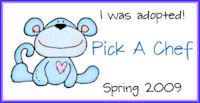 Well, as my name suggests, I got one foot in the poor house and the other on a gold bar. Weird, huh? Well, my bills go up and down a lot, a lot of variation, but my income stays the same. So, my life is a steady game of keep-away and catch-up which plays out, unfortunately, many times in my pantry. When you got two dollars to your name until friday, the unused items from four planned dinners the nights before and some spices you get creative pretty quick. :D
I can't complain, though, it's been fun as hell. My recipes certainly aren't gourmet, but they're (mostly) healthy and they taste pretty darn good. I try to keep everything in one pot, a holdover from my Italian/Irish mother's cookin' (love you, ma!), but I do tend to use a little too much butter and grease (that's my southern stepmother's style, love ya!). And then, of course, the vaguely gourmet crap comes from Food Network, haha (omg, FN is a drug and I'm addicted, help!).
Synopsis - half-broke all the time; recipes made from random ingredients; southern Italian/Irish; lots of grease but in a healthy way. Enjoy!
Favorite Foods
I eat by texture, most of the time. If everything in the dish is creamy and all of a sudden there's a crunchy bit of celery (i.e. traditional chicken soup) I cringe and will actually pick through the whole thing and make sure there aren't any other crunchy bits. The opposite is true as well, if everything's crunchy, don't you dare put something mushy in there or I'll gag.

Other than that, I'm pretty open. (I used to be a really picky eater but when your options are to eat the nasty brussel sprouts or nothing at all, you shove those nasty little time-bombs in your mouth covered in salt and love it. :D )