About Me
I live on the Gulf Coast of Florida with my husband, David, 3 children, 3 cats and 2 goofy pugs. I'm originally from upstate New York and have lived in Florida for 18 years. The summers are very long here and you spend most of your time inside because of the terrible heat and humidity. Before becoming a stay at home mom, I worked for 6 years as the Catering Coordinator for The Belleview Biltmore Resort & Spa, the oldest, largest wooden structure in the world, located in Clearwater, Florida. I LOVE cooking and entertaining.
Trying to feed a family of 5 on one income can be tricky at times so I am always looking for new ideas and recipes. That is how I happened upon RZ.
Cooking has become my passion for keeping me sane. I don't like being stuck indoors most of the year! The plus side to living in this climate is the yearly abundance of fresh produce. I have constant (and cheap!) access to most fruits and vegies all year round at numerous stands on the side of the road.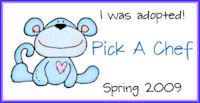 Favorite Foods
Peanut butter!!! Chunky style :)
Bagels (with peanut butter) :)
Bacon Mushroom and Cheese Burgers
---
Over 475,000 Recipes
Food.com Network of Sites