About Me
I am a 21 year old homemaker (and soon to be mommy!) from the Florida Panhandle. I love to cook and try new things. I never got all the cooking wisdom from my mother that many other people have, so I've had to teach myself over the last couple years. I have to admit, though, it's been lots of fun with it's good share of hard work. Thank goodness my husband is so forgiving!

DH and I have been married for almost two years now, and I just love him to pieces. We are having our first baby in March, so then I can cook for him, too! Well, as soon as he's ready. :)

I am pretty young, and I am just now experiencing being invited to events and being asked to bring a dish. It's very exciting to me, and makes cooking all the more fun.

Also, I am always hearing from DH, "These mashed potatoes are good," or whatever it is I am making, "but they aren't quite like my mom's." So, I am hoping that one day he will be saying to other people, "These mashed potatoes aren't as good as my wife's!" ha ha. Here's hoping!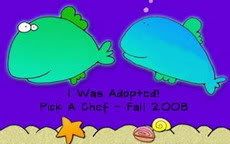 Favorite Foods
My favorite food is macaroni and cheese, so if you have a good mac recipe, let me know. I am always trying new ones.