About Me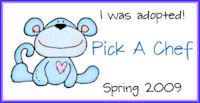 I'm a writer who relocated from Los Angeles to a small village in the south of France at the beginning of 2005.

I started a blog called Possumworld about our experience when we moved, and the first year of that turned into a book called OVER HERE: An American Expat in the South of France. Since what we usually write are comics, animation, science fiction and translations of obscure French 19th and early 20th Century pulp fiction, it was a bit of a different genre for me.

I suppose for anyone who loves cooking, living in France is a bit like living in the food capital of the world. As a city girl, living rural France is an eye-opener in many ways. It's unusual to be this close to the source of your food when you've only ever seen it in gleaming rows in a supermarket.

Many times I'm asked whether I don't miss life in Los Angeles and whether I'm happy here. I always look at people in wonder, because now, I can't imagine living anywhere else.
---
Over 475,000 Recipes
Food.com Network of Sites