About Me
I work part-time as a Paralegal for a non-profit, State funded appellate project. We assist indigent criminal defendants with representation during the appeal process and also assist in some dependency appeals.

My family and I live in San Diego, CA. I am married to a wonderful man, who is a Correctional Officer and this July we will be married for 11 years. We have a 6 year old son, Quetzal, the light of our life. On October 7th, 2006, We had a still birth, our son, Angel. It was a week before my due date. We never found out what happened and we will never know, we were told by the doctors that it fell in the unknown category, since everything was going fine with the pregnancy, but he is in our hearts and minds every single day.

These past 18 months have been very difficult, and this how I discovered Zaar. I need a distraction and so I started consentrating more taking care of my family and cooking.

I have loved cooking and baking since before I was married; but after the baby's passing, everything just went into a tailspin and so I decided to dedicate all of my energy in trying to help my family come out of this, and food has been one part healing.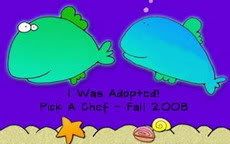 Favorite Foods
Mexican, Greek, Italian, Chinese.