About Me
If you have happened to stop on this page because you were viewing one of Amy?s (Redneck Epicurean?s) recipes or browsing through members and liked her name, I would like to take the opportunity to introduce to you the most amazing woman I have had the honor of calling ?friend.? Amy was a breath of fresh air that poured sunshine onto all around her. Her smile was evident in every forum post as well in her wonderful descriptions of recipes. Amy touched the lives of hundreds upon hundreds of members here at Zaar and her love was felt worldwide. Her ?message? was a simple one, live life to the fullest, stay positive, love your loved ones each day, and don?t sweat the small stuff. In fact, Amy was so positive and outgoing that a lot of members did not even realize the seriousness of her illness.

The day Amy passed away was one of the saddest moments here in the Zaar community. Tears all over the world were shed on that day. Unable to attend the funeral and show our love, members sent single red roses tagged with their Zaar name and country along with a single white rose to represent Amy, our beloved Redneck Epicurean.

The outpouring of love from her Zaar family was overwhelming and brought much comfort to her family. This truly is a remarkable place! Luckily, we have Amy?s page to remind us of how special she was. I hope you take a moment or two to read her page and browse through her wonderful recipes, and pick a few to make (she loved reviews!) If you have a question you need answered about one of the recipes, please feel free to ask in the community.

NcMysteryShopper



May 14, 2007: Our community lost a well-loved friend yesterday when Amy passed away. We are all shocked and saddened to lose Amy, and there are several threads for expressing your condolences.

Kathy at Recipezaar

http://www.recipezaar.com/bb/viewtopic.zsp?t=209732

http://www.recipezaar.com/bb/viewtopic.zsp?t=209748

http://redneckepicurean.vox.com/

*******************************************

Hi Y'all! My name is Amy and I have totally moved in to Recipezaar. It is now my home away from the hospital and I love it. I have become friends with so many great people here, it has been a blessing. It was amazing to me to know that a little bug like me can make such an impact while being disabled. I'm a diabetic who refuses to let health problems get me down. I'm 27, single, and live in a rural area. I am a born-again Christian, a Baptist by denomination, and a great cook by the Grace of God.

I come from a long line of cooks on both sides of the family. Granny was a lunch lady and Mamaw came from a poor family where food was "country" because they raised a garden and their own animals. Mom was a stay-at-home and she raised me and Chris (my DS) to cook so we could catch ourselves a man; neither of us are married at the present time. (If you have a son who is aged between 23-30, please send picture resume to my email address if he is looking for a wife who excels at domestics. j/k)

I love to cook, collect recipes, cookbooks, apple stuff for my kitchen, and Cinderella stuff. I enjoy throwing dinner parties, cooking for Pop and Mom and sometimes Chris, scrapbooking (my second favorite hobby, only to food), and making new friends. I love to hear from people everywhere. There is so much to learn from everything here at Zaar. I love the new design and think the elves do a great job. My dream job is opening my own restaurant, followed by working for Zaar, which I hear is an experience all in itself. Lots of hard work and lots of wonderful rewards.

My favorite chef of all times is Paula Deen and if I had upon gunpoint to choose another mother, it might be her. BUT I am in love with her son Bobby (the single one) and would love to just snatch him up and become the next DEEN daughter-in-law.

A little bit more about my faith...I am a born again Christian. I go to a small country church where the majority of us are family and my family cemetery is on the property. We have "eatin' meetin's" every fifth Sunday, holidays, and every other chance we can get. Sometimes it's full meals and sometimes it's soup and sandwiches. Most of the ladies at my church are good cooks. Everyone knows I've had gourmet training and really expect if I bring something for it to be good, especially since my mom is a great cook too. (See her chocolate pie recipe in my cookbook.) When the Christians all gather in heaven for the Feast that will never end (and let me just say, if you know my situation, you know I have terrible problems with the intestines) I will not have tummy problems, I will eat like there is no tomorrow, and I will be the one adding cinammon to the milk and honey because Jesus knows I love it! If you don't know Jesus as your personal Savior or have more questions about God, Salvation, getting into heaven...just zmail or email me. I'll be glad to share my testimony and what I know. God has blessed my life so much with things that my cup overflows. I am not one of those people that God is all they talk about, but He and my faith are such an important part of my life, I cannot help but share it.

Jill is growing up so fast. She?s gotten big enough to hop up on the kitchen counters which automatically grants her a spanking with a newspaper. Her favorite things now are boxing with her Poppi (my dad), following Granny anywhere and everywhere she goes, and sneaking under the covers and lying next to me so I can?t roll over. She?s getting so big!


Since my college degree was Home Economics Education with a concentration on cooking, I tend to rate recipes somewhat like a teacher. A recipe that was ultra easy to prepare, delicious, and I ate until I was sick and would feed to anyone will earn you 5 stars. If something was missing, cooking time was off quite a bit, amounts of ingredients were off...just a little something will get you 4 stars. So on and so forth.

My likes/dislikes, pet peeves, etc: Hot food that?s cold, cold food that?s hot. Also, I?ve read several ?reviews? by people here who are totally critical to the negative that give the impression that they feel they are the all-knowing authority on the subject. Chances are, they do not know everything about whatever it is they are talking about and their comments make me feel like giving them a swift kick in the hind end. I guess I just feel if you have some kind of positive advice or if are giving negative reviews that have a valid justification, that?s cool. But if you?re just ripping someone to shreds, you?re rude and hateful and I don?t like that.

My favorite recipes tend to be those "family-style" things like comfort food. Of course, I love to try new and different things, but must be VERY careful due to the intestines problem.



COFFEE, CHOCOLATE, MEN.
SOME THINGS ARE JUST BETTER RICH!



MY ZAAR GAMES & AWARDS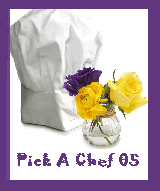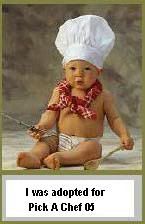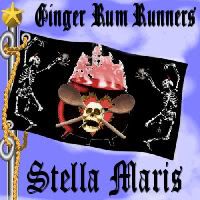 Favorite Foods
Appetizer: Chinese Chicken on a Stick (they consider it an appy at the restaurant, I consider it a main dish.), salsa at the local Mexican restaurant, nachos (plain up cheese and chips), and the stuffed mushrooms from Red Lobster (I make 'em here at home when the shrooms are on sale!)
Beverages: Diet A&W Cream soda and root beer, Hot tea of just about any flavor, and water
Breads: home-baked sourdough bread, blueberry muffins, and Townhouse, Captain?s Wafers, and Club Crackers.
Breakfast: Maple & Brown Sugar Oatmeal with bananas and pecans, Sausage, Gravy, and Biscuits, and coffee
Condiments: Heinz ketchup, A-1 steak sauce, butter, and mayo (NOT Miracle whip...eww..)
Pie: Either my coconut pie or Cherry or blueberry pie. Also, my mom?s Blackberry Cobbler. For cold pies, I love key lime pie.
Cookies: My gingerbread cookies, Mom?s Chocolate no-bake, michEgan?s Mint Snowballs, and Nurse Di?s White Chocolate Chip Oatmeal Cookies
Cake: Peach Schnapps Cake and Mirj?s Death By Chocolate cake...oh, and cheesecake.
Candy: Butter mints, Homemade Peppermint patties (Mirj?s recipe is good), and Mom?s chocolate fudge
Other: kdp?s Stack Pudding, Mom?s banana pudding (cooked/hot), Marline?s Banana pudding (with instant pudding and cool whip), and a good fruit trifle.
Lunch/Snacks: Chicken soup, Tarragon Chicken Salad (Whole Foods), French Dip Sandwiches w/ Charlotte J?s au jus recipe (only one I?ll use!), and Potato Soup with Cornbread. Oh...and for a snack, leftover cornbread and milk with salt and pepper. YUM!
Main Dish/Meat: Seafood Chimis at El Maz. in town and Di?s Blackened Catfish (grilled)
Salad: Any fruit salad (I cannot eat lettuce-based salads because of my digestive problems.), pasta ranch salad, and potato salad
Side Dish: Debbie?s (lady at church) Fajita baked beans, Betty?s squash casserole, potatoes (fixed ANY WAY), garden corn,fried cabbage, hash brown casserole (my recipe), and broccoli and cheese - casserole or just steamed with sauce
Soups: Cheese & Broccoli, Potato (not cream of), Mom?s Vegetable

?Sit Down? Restaurant: Tumbleweed, El Maztalan Mexican, Evergreen (hands down...prolly my ultimate favorite place to eat. They know me and even ask about my health and will deliver to the hospital. Those people are the nicest bunch I've ever met.)
Fast Food Restaurant: Arby?s, Burger King (yes, I love a Whopper but can't put one away...they're too big!), and I love McDonald's fish sammies, fries, and tartar sauce.
Ethnic Cuisine: Chinese, for sure!
Potato Chip Flavor: either Sour Cream and Cheddar or SC & Onion
Ice Cream Flavor: Banana or Orange sherbet.
Candy: Werther?s soft caramels, Gummie Bears (or any kind of gummies, really), Lifesavers, spearmints, cinnamon discs
Movie: Cinderella
TV Show: Paula's Party and Paula's Homecooking (was their ever any doubt??)
Kind of Music: Southern Gospel, Bluegrass, and 70?s music
Singer/Group: The Temptations and country group Southerland
Article of Clothing: Either my leather or Cashmere coat with real fur collar, both I got at the Salvation Army for 1 dollar each!
Kitchen Appliance: My convection oven and my dishwasher
Store to Shop At: GoodWill, Salvation Army, yard sales, anything where I can find antique/vintage clothes. I?m not too poor to afford new stuff, but LOVE vintage stuff!

A WOMAN IS LIKE A TEA BAG...
YOU DON'T KNOW HOW STRONG SHE IS UNTIL YOU PUT HER IN HOT WATER