About Me
About me hmmm...well as you can see by my name, I married my favorite Repo Guy on New Years Eve 2004. We were together for a total of 10 years before I would give in...LOL. I have an awesome son who graduated High School June 2011. I am trying to convince him cooking school is the way to go, but he wants to be like Dad...what can you do?

We own our own Reposession Company in Fort Lauderdale that keeps us very busy. When we aren't working we are doing alot of work on our home and yard. We tend to have a lot of impromtu get togethers, mostly BBQ's by the pool and such, not too stuffy at our house. Your a guest the first time you come over, after that your part of the family and mi casa is su casa.

I of course love to cook, collect recipes and cookbooks and anything that has to do with food.

I play Bunco once a month with 11 other women that are just awesome, which we always have lots of yummy munchies at. So I am hoping I get some new recipes here to try out on them.

I love to read - everything from James Patterson to Laurell K Hamilton...yeah I am digging on the vampires lately.

Living in FLorida, I just love warm weather and spending time in the sun. I am a sun worshiper and hope to one day live on the beach.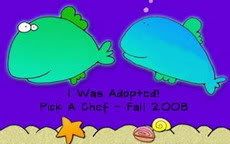 Favorite Foods
Pasta pasta pasta...did I mention I love pasta? Seafood...any kind any time! Especially mixed with pasta. Steaks on the grill...mmm. I guess I pretty much love food!

A favorite restaurant is pretty hard to pick, because unless they can make it better than I can I don't go! Also the service has to be great for me to pay to have someone else cook for me. But if I have to pick...

Carraba's for Italian
Tequilia Sunrise for Mexican
Flanigans Bar & Grill for Burgers
We do like alot of the restaurants on the beach here for seafood.

That's it for now, I guess.
---
Over 475,000 Recipes
Food.com Network of Sites