About Me
I `m a Mom, Wife, Friend, Daughter, Sister, Aunt & Hairdresser. Living in NJ with access to all kinds of ethnic ingredients.
That`s a real Good Thing!
Enjoy doing yoga,{but haven't in a while}cooking, hiking, eating, did I say cooking. Yes, painting has been a hobby of mine too.
I have a large collection of cookbooks and love all 300 of them.


Bobby & Giada & me 2006


Sara & me 2005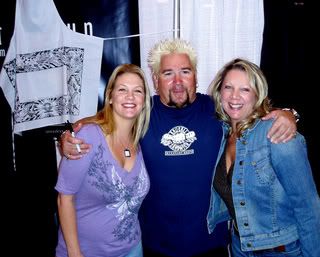 Guy, and His Wife Lori on the left and Myself on the right. At the food and wine tasting in Atlantic City Oct. 2007

Ming Tsai 2010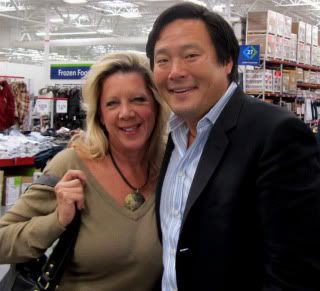 Married 33 years in December to my wonderful husband John!!!(I`m real patient LOL)! I do LOVE him tremendously!

Proud Dad and Sam Chef #508249 on her Wedding Day!


I have the best children in the world!
Chef #508249/Samantha my Daughter. Teaching at Noah's Ark a pre school. ON May 20, 2006 Married to Roger the best SIL ever!

Samantha, Roger, His Brother the Best Man, and me the Matron of Honor and it was an Honor!


My son John and I at Sam`s Wedding



We had a Beautiful Dog-Sega She`s now in Doggie Heaven we will always have her our Hearts.
Cat-Gizmo 18 She use to hate being around anyone now she needs attention non stop.

Need to get in touch with me you can zaar-mail me or find me in these forum which I host
Grilling/BBQ/Smoking Forum Host Roger/OH and Mama's Kitchen and Red Apple Guy

U.S. Regional Cooking Forum
Gluten-free Diet / Celiac Disease with my Co-Host **Jubes**

Please do Stop IN!!
Favorite Foods
Cooking Healthy is the way to go.
I enjoy growing my own veggies & herbs.
I like to try new things anything from canning to making soap.
I`ve been cooking Asian- Korean, Thai, Indian and Italian, Mexican, Caribbean....
Oh I should say Polish too! Mom may read this! LOL! ;)
I just like it all!
I do love to go out and eat but PLEASE NO buffets!

Too many great recipes and not enough time to cook them ALL!
SOOO Many Wonderful Friends here at Zaar!

I JUST LOVE THIS AND HAD TO POST THE POEM!

*Change is Inedible*
I didn`t have potatoes, so I used rice.
I didn`t have paprika, so I used another spice.
I didn`t have tomatoes, so I used paste.
A whole can not a half can, I don`t believe in waste.
A friend gave me this recipe; she said you couldn`t beat it!
There must be something wrong with her
-I couldn`t even eat IT!
Author Unknown


Yes! I myself change recipes to suit my tastes. But never give bad reviews to a recipe unless it is made true to form.
Thank you all for your reviews and beautiful photos of my recipes.