About Me


OK, you have a 50/50 chance guessing which one I am in the above picture! Am I the chubby wubby chunky one or the skinny minnie? Well, since I'm the cook in the household, if you guess the chubby wubby chunky, you are right! Sigh, not only do I love to cook, but alas, I love to eat.

I am a retired mom and grandmother. We have two dogs (pics above) which have now become our kiddies. I am finally able to enjoy my passion for cooking now that I am retired. I love cooking for others and hosting dinner parties. I love all cookbooks and have collected way to many throughout the years. My fav's are TOH and their partner cookbooks. I find these cookbooks are down to earth and I usually have the ingredients in the pantry. Also, now that I am retired I am enjoying traveling throughout the US and other countries.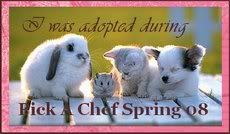 Favorite Foods
I love to cook most anything. I'm a southern cook at heart but I also love anything tropical/hawaiian. I seem to have the hardest time with candies but have the regulars that I always make during the holiday seasons. My personal favorite meal is surf & turf (steak & lobster). I have too many favorite restaurants to even mention. The only kind of food that I am not overly crazy about is italian, just not a pasta kind of girl. Update: I'm learning to really like more Italian foods lately.

When trying new recipes, I will always make them to "the letter" on the initial try (unless the recipe contains an ingredient I just dont like). I want to be fair as a reviewer to the original recipe/submitter. If the recipe is a keeper, I will come back and amend my comments with additional changes I made that the community might enjoy also. I enjoy receiving the feedback on my recipes and will always return the favour.

For anyone trying one of my recipes, I always try to email the chef to let them know I appreciated them taking the time to try one of my recipes, as well as leaving their comments/ratings. Recently I've encountered several chefs that zmail is not enabled, so please at this time, let me thank those chefs for trying my recipe, I hope you enjoyed it. I understand that all recipes are not for all people and some will love a recipe while others may not and isnt it grand that we are not all carbon copies of each other!! But anyways, thanks to all that try a recipe!
---
Over 475,000 Recipes
Food.com Network of Sites