About Me
I live in a coastal town in the southwestern corner of BC. From my living room window I can look across the water to the USA. The town is also a suburb of Vancouver so have the water at my front window and the moutains at my back. From the balcony I have a view of Mount Baker which is beatiful.
I am retired from the airlines so have a lot of time to shop and do hobbies. I enjoy watching the food channel on TV, and can even watch Gordon Ramsey with his language. But I also like meals that are easy to prepare. I do wish there were more truly lactose free recipes available, most that I have found include ingredients that contain milk ie: mayonaise.
I almost never stay to a recipe after the first try - have to add my own touch. However, I do the recipe without changes (except for the sodium and saturated fat levels in some cases) the first time, out of respect for the chef, there may be subtle flavours that are not too apparent.
I am also a committed singer and belong to two choirs, I also love singing the music from the old musicals though have never done that for the public.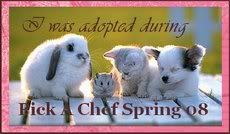 Favorite Foods
I love Kalimari - if it is cooked properly and not rubbery, and that is very hard to find here. I first tasted it in a club in Australia and loved it.
I have always liked fish, almost any kind. My favourites are Orange Roughy, Basa, Tilapia and Salmon.
Chicken is my main stay ingredient.
A good steak is a pleasure (I wish I could cook one well) - No organ parts thank you!
Pizza occasionally, I would love more but not good for my heart.
I make a hamburger pattie that my friends love one day I will post that recipe also.
---
Over 475,000 Recipes
Food.com Network of Sites