About Me


Been cooking all my life. Both my parents were excellent cooks, my mother made a a wide range of things, my father was a gourmet Chinese chef long before it became stylish to cook Chinese. One of my earliest memories of cooking is helping my dad make egg rolls from scratch. I make a mean Peking Duck, too.
Got a husband, two kids, two dogs, two cats. We used to have two birds, but we've recently moved and didn't think they'd survive the trip.
I don't have a favorite cookbook, but I go through phases. I guess Joy of Cooking is the best for basic everything, and I'm very partial to The Gefilte Variations. Not only are the recipes fairly yummy, but the stories she tells are really delightful.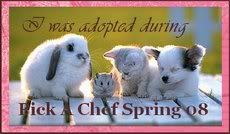 Favorite Foods
Peking Duck is absolutely my favorite food. (And it's really not that difficult to make, either!)
My favorite restaurant is Le Grande Venise in Paris. I've eaten there three times in my life, and they were, without a doubt, the three best meals I have ever eaten.
I'm also extremely partial to linguica and just about everything you can make with it. (Unfortunately, it's not easy to come by in Texas.) Having lived in New Orleans, I'm a whiz at Cajun and Creole, and a year in the Netherlands taught me all about Hutspot and Poffertjes and pannekoeken. I just wish I had the energy (and time) to make a real Riztaffel (sp?) -- I've never found a restaurant here in the US that serves it.
---
Over 475,000 Recipes
Food.com Network of Sites