About Me
I'm a 32 year old mommy to an amazing 8 year old boy, Aidan. We live in WV, and moved in with my parents after my divorce and some health problems. In the photo with me are my dad and my son. We're raising two cute kitty cats, Pete and Polly, who have very opposite personalities. Both were rescues. Polly is 4 months old and Pete is a year and 1/2.

I'm battling an eating disorder that I've had for almost 13 years now. My highest weight was 220lbs and my lowest was 76. Neither were healthy, so now, my cooking reflects a desire to avoid those weights. Eventually, I hope to work with people who struggle with eating disorders. I have my BA in Psychology.

I'm not employed right now, due to a couple of seizures, but I'm getting very antsy and ready to get back out to earn my keep. For now, earning my keep is pretty much cleaning and cooking.

My son is sooooooooooooooo healthy and loves fruits and veggies, so he's fun to feed! He's a smart kid too and gets in trouble in school as a result. haha! When he grows up, he's going to be a chef, he says, and we watch Take Home Chef together.

I'm addicted to zaar and try to choose new recipes weekly. It irritates my family some, because often a good recipe gets forgotten, but I almost always find them again.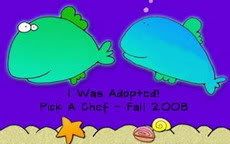 Favorite Foods
Chocolate...not milk chocolate but dark and semi-sweet. Anything starchy! Rice, pasta, chocolate...and potatoes...and chocolate. Sometimes vanilla if there's no chocolate.

Sushi, tilapia, shrimp...

Creamy foods are also a favorite, but I find it hard to indulge at this point in my life. Alfredo is my comfort food.

Fruits: Bananas, apples, strawberries, and blueberries, although when I was pregnant, I pigged out on canteloupe.

Veggies: Mushrooms (mushrooms belong in every dish!), spinach (just not too much that you don't taste the mushrooms!), broccoli, onions, peppers, carrots, corn...it's all good.