About Me
This is me. Taken at my B-day last year.

I am 41 years old. Been married to my fantastic Honey for goingon 4 years now. I have one son, 23, who is engaged to a beautiful, vivaceous woman. I am a medical transcriptionist - work in the office at our local hospital. I love to cook, that is my relaxation. I love baking, especially cookies and scones. We live in a raised ranch at the very edge of the city limits - corps of engineer wetland area across the road, city soccer field in my back yard. We live in a town of about 10,000 - a little too big for my liking, but that is alright. It is quiet here, tho. We have 1 cat, Miss Callie, who is (big surprise here LOL) a calico cat. I enjoy counted cross stitch, reading - mysteries mostly, walks, teatime, board games and of course, cooking!

http://www.recipezaar.com/members/home/555701/wazzzzzup.jpg This is my baby kittie! Sadly, he developed a saddle thrombus and we had to put him down on 03-22-12. He lived a full life and Miss Callie is stepping into mighty big shoes, but she is so sweet that is not a problem!

These are a few of my favorite things:
Cats.
Snow - we lived in Alaska for a while when I was little and I loved it!
Celtic music, especially harp and bagpipes.
Rainy days.
Autumn leaves.
Fireplaces and bonfires.
Historical mystery stories.
Cookbooks.
Anything Victorian.
Counted cross stitch.
Calligraphy - working on learning this.
Tatting lace - want to learn how.
Canning and preserving summer's bounty - pickles, jams, jellies . . . .
Roses - particularly pink ones.
Lace.
Candlelight.
Garfield.
Moonlight.
The ocean- living in the Midwest, this is something I LONG for! We lived in New Bedford, Mass. for a while when I was a child.
Travelling- I like to go driving. That is, I don't care to drive myself, but I do like to go driving!
Really, really good dark chocolate.
The color green - in all of its manifestations.
Ice hockey - watch, not play!
Teddy bears.
Sherlock Holmes.
Board games - except monopoly.
Tea and scones.
New England.
Long walks in the brisk autumn air.
Hot chocolate.
Gazing at a starry sky.
Optimism.
Homemade soup and homemade bread.
Christmas music.
Quilling.
Origami - want to learn this.
Learning about new cultures.
The way God's word reveals new things every time you read it!
Trying new recipes.
Comedy.
Making Christmas cookies.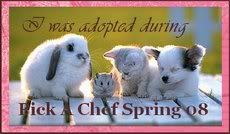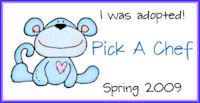 Favorite Foods
My favorite dish to cook is probably scones. I am pretty famous for my chocolate chip cookies. I like to cook pretty much anything, but I like my junk too. Ren Faire food is the best. About my only dislike - extreme dislike- is liver and caviar. I am allergic to eggplant and kiwi, so those are out. I love Chinese. and of course good barbecue. and you just can't beat a good steak. I love to bake. My pie crust is flaky and tates good, but usually looks like a dog has been chewing on it. I love to do appetisers and fix food for parties. Cannot do organ meats, ugh.