About Me
Hi there, my name is Stephanie. I live in College Station, TX and I attend Texas A&M University. My major is Mathematics with a minor in English. I've just discovered my love for cooking over the past year. I want to know anything and everything there is about cooking but I am still a beginner cook and have LOTS to learn!

I enjoy cooking, traveling, trying new restaurants, listening to music, country and western dancing and many other things. I have two cats named Patches and Ashley whom I absolutely love to death. They are literally the best friends I've ever had...if anyone wants to share stories about the crazy things their cats have done I would be more than happy to swap stories!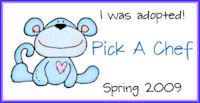 Favorite Foods
I love just about anything unhealthy!! My first love is pepperoni pizza (dipped in ranch dressing!). I also really enjoy mexican food (I love enchiladas!) I like comfort food such as mac and cheese, chicken fried steak, etc. I also like a bit of Chinese food..orange chicken is so delicious! Actually, I love just about any type of chicken. I love just about every chicken casserole I've ever had.
I also really enjoy baking. I don't know of ANYONE that doesn't like a good cake, cupcake, or cookie.

I've been trying to develop a taste for vegetables but it just hasn't happened yet!
---
Over 475,000 Recipes
Food.com Network of Sites