About Me
I am retired and I don't really do much of anything but cook food and download and watch movies and television. I live in Las Vegas, NV (across the street from The South Point Hotel & Casino) I like to cook a lot and gamble a little.
Favorite Foods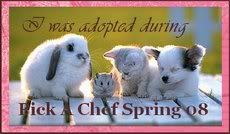 I don't know what to put for a favorite food because I pretty much like 'em all.

My parents exposed me to many different foods and ways of cooking when I was growing up so I learned to like everything. We had a lot of pot-luck dinners at church so I ate a lot of different types of food.

At home, growing up, it was my mom's job to put the food on the table and our job to eat it. There was a lot of times when my mom just sort of "made up" dinner. She would go out into the garden in the back yard and figure out what we were gonna have by what was ripe.

Whenever we asked "What's for dinner" we always got the same answer from my dad...."food"
---
Over 475,000 Recipes
Food.com Network of Sites