About Me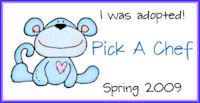 I've always known HOW to cook, but it was more out of necessity. In recent years, however, I've discovered how to enjoy the LOVE and pure enjoyment of cooking. It's now a big part of who I am, as corny as that may sound! It has also trickled down and become a joy and a real treat for my family as well... they love everything I make, and are my best critics. They enjoy eating what I make as much as I enjoy making it! My daughter loves the fact that I cook so well and she brags about it to all her friends, which is really cute. I have a long way to go before I can really call myself an accomplished cook (in fact, I don't know If I'll ever be able to call myself that! We'll see...). But my family sure has a lot of faith in me. Time will tell if I become what my family already believes I am. :o)
Favorite Foods
I love most everything, but I'm a bit of a picky eater just like my teenage daughter; although, I'll try anything and will try cooking it many different ways before I give up on it entirely. I love pasta, anything Italian, adore casseroles, and really love coming across lots of crock pot recipes that are easy, fun, but delicious! I grow my own herbs in the spring and summer and LOVE using fresh herbs in everything I make. Not only are herbs wonderful in flavoring food, but they can turn any dish into something so beautiful to see! And how beautiful they smell!!!

Favorite Restaurants: Newest favorite is Chipotle! I also really enjoy Olive Garden & Macaroni Grill.

But I honestly don't eat out much at all. I enjoy family meals at home most of all. When I do go out to restaurants, I love trying new things and taking note of how they may have made the dish and then trying it myself at home. That's a lot of fun!
---
Over 475,000 Recipes
Food.com Network of Sites