About Me
I'm a junior in college and studying Graphic Design. I'm also minoring in nutrition. Someday I want to own a restaurant of my own and write and design cookbooks!

I absolutely love cooking and trying new recipes. That's one of the main reasons I couldn't live on-campus... the cafeteria food. Homemade food is always best!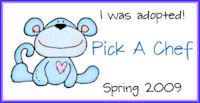 Favorite Foods
Boston Cream Pie! Pasta (almost any kind), tacos, salmon, veggie burgers, cupcakes, ice cream, and the list could go on and on....
and any type of fruit or veggie, they're amazing! Especially broccoli, anything with broccoli and I'll eat it!
I think California or Mediterranean cuisine is my favorite though. Living in Orange County my favorite restaurants are City Citrus Grille, Cheesecake Factory, and Opah.
I tend to prefer baking over cooking, most likely due to my sweet tooth. Can't take too many goodies before I start craving my veggies though! I plan to create healthier versions of some of my favorite recipes in the future. If you have any tips send them my way!