About Me
Hi!
My name's Vanessa. I'm 18.
I'm a senior in HS n I'm graduating in May. Obviously, I love to cook! I've even taken a chef course for 1 semester. I totally love Recipezaar...it's my fave recipe site!
I'm from Venezuela. When I was 10, I moved to GA, USA; after that...I lived in Mexico for 3yrs and now I'm living in Kansas!
I think cooking is my favoritest hobby of ALL time! It is stress-relieving!
My fave cookbook is...recipezaar:P! It's probably the best website that exists! I'm glad I've found it! Congrats to all the AMAZING cooks who are part of this community... I love having tons of recipes...in fact, I have a personal recipe folder, where I file all the recipes I love...n it's pretty fat:P Recipezaar is AwEsOmE!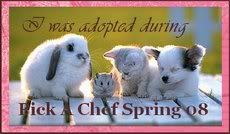 Favorite Foods
I totally love Asian food...specially Japanese and Chinese! I love making japanese and chinese dishes.
I would have to say that when I go out to eat...I love eating in Brazilian restaurants that have the rodizio system. Wow...picaña rocks! I believe that when you go to these places u eat more than 2 lbs. of meat in one sitting but it's definitely worth it!
I always love going out to eat to new places and I pretty versatile with food. I remember when I went to NY in Chinatown there is a restaurant called "Peking Duck" and it was DELISH!
Mmmm...well I make lots different types of food in my house. I'm known to make good dishes in general. Of course...we all have our "down times" with food:P
---
Over 475,000 Recipes
Food.com Network of Sites