About Me
I now live in a small town in Nevada after 35 years in a metropolis on the West Coast of the U.S. In the 'big city' I learned to love a variety of cuisines no longer available to me here in my small town. Cooking has become important to satisfy the craving for those ethnic cuisines I developed a taste for. Now, just finding some ingredients can be a challange. I am indeed grateful for my internet service!

I recently embarked on a mission to obtain the ingredients needed to try my hand at Ethiopian cuisine. I just obtained the last outstanding spice required to make 'spice paste,' an apparent staple of many Ethiopian recipes. I have to laugh at myself since the fenugreek seed I ordered online turned out to be 13 pounds rather than the 13 ounces I thought I had ordered. Sheesh! What will I do with it all? Since I have all these seeds, maybe I'll try planting some to see what happens. This is a small example of how my life goes. I'm known as a non-linear thinker. In other words, "outside the box" is the only way I can think.

My favorite job ever was when I was a baker in a health food restaurant. The job was short lived, but fondly remembered. I still have my recipes from that job. After that I spent the next 35 years in mortgage banking. I went to university when I was in my 40's and majored in art. Now that there is no mortgage banking, maybe I'll paint. And cook. And bake. Hmmmm, there's a little food for thought;)!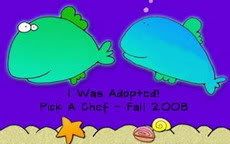 Favorite Foods
I am famous for my German Apple Cake. Only last weekend I baked it for my son's 40th birthday. That made me realize I've been baking this cake for 30+ years. My version of the "cake" is dense, rich, heavy and moist and unlike any other cake I've ever heard of. The nutritional and caloric values of this cake make it a definite splurge.
---
Over 475,000 Recipes
Food.com Network of Sites