About Me
I live in the south, right on the Gulf of Mexico to be exact. I am a stay at home mom to a 2 year old girl and an 8 month old baby boy who both love to eat! I love being with family and friends, and it seems like our getting together always revolves around good food. I love any Martha Stewart cookbook. She's my hero. :P Emeril is my favorite show to watch, he's so awesome.
My favorite thing to do when I am stressed out or really happy is cook or bake, so my husband stays happy!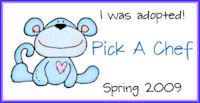 Favorite Foods
I have really fell in love with southern foods. Boudin, Crawfish, Shrimp, Grilled Catfish. Seafood is wonderful!
I love beer-battered halibut, anything with salmon, all kind of cheese, wines and any food that goes good with it. Anything with olives is always welcome as well as sushi. And I love spicy foods, including anything with jalapenos.
---
Over 475,000 Recipes
Food.com Network of Sites