About Me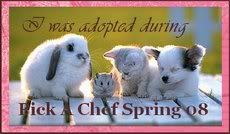 I have cooked since I was in High School. I am a natural and I love to cook. I really enjoy cooking for others. I have catered/served privately and in a few restaurants.
I am a hairdresser as you can tell by my public name. I have been doing hair for 16 years now and I love it.
I have probably about 300 cook books, I collect them and thoroughly enjoy reading them, kinda obsessed I guess.I have more recipes that I am not ready to share just yet.I pride myself with having a few that are just over the top and love to be just mine, plus I do most recipes with no way or rhyme just with my ideas. When invited to anyones house I tend to take over cooking when allowed, I am a perfectionist by nature, except in the cleaning department.
Favorite Foods
It changes with my appetite. I love appetizers alot. I make really good dips, spreads and cheese balls. I am known for more comfort foods. I can make most everything except for lamb or different cuisines.
My favorite restaurants are P.F Changs, Cheesecake factory, Red Robin, Panera Bread. I love going to gourmet resteraunts, cafes, lil' ma and pa places. I really am all over the place really, I just love food.
---
Over 475,000 Recipes
Food.com Network of Sites