About Me
I'm married, (almost 30 yrs), to my best friend and fellow foodie. My Icon picture is us in '78. We got married on my Birthday. We have 3 children, and just had our 4th grand (the 1st girl!!)

We moved to New Orleans from Ky in 1999 because 2 of our kids were down here having families and I sure didn't want to be a long distance grandma..so we packed up and rented out our house and there we were. I loved that city. Besides my family, of course, I love cooking, cook books, reading,(and reading cookbooks!) my cat, needlework, gardening (but haven't done too much of that here), music,learning about this computer,discovering hidden treasures in the form of restaraunts in New Orleans--I'm not kidding, that place had more places to eat than I have ever seen... and there are so many good ones the bad and mediocre ones don't last long. I also enjoy making food baskets for the holidays, putting in things I have made from candies, breads and cookies to jellies & pickles. We have a cat, Noodle, who survived the "Storm who will not be named" a 19 pound ball of fur love. Now that we've in N.W. Louisiana for almost 2 years, I'm coming out of my culture shock...just because it's Loisiana doesn't mean the food is like New Orleans, in fact this area is more Tex-Mex with a little country thrown in... your basic average good food. Still looking for a place to make me say "WOW" !! I've decided to up date this a little, and it looks like we will be staying here in NW Louisiana for a while anyway. I have found a home here, a wonderful Church a few good places to eat, some beautiful friends..Life does indeed, go on..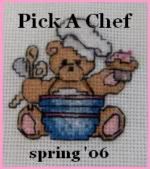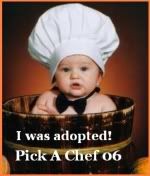 and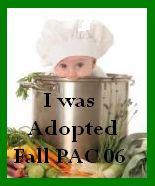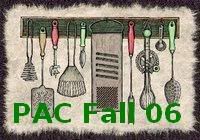 Favorite Foods
My favorite foods are probably the ones I haven't yet tried..LOL. I still like to cook and eat the old family favorites, chicken pie, lasagna, (now I make a seafood lasagna that is pretty awesome, butterscotch pie from a recipe that was my grandmothers, and anything that features chocolate and peanut butter together, I also love chocolate and orange flavors..and chocolate and chilies..hmmm maybe chocolate is my favorite, ya think? Since learning to cook the cajun/creole style, I can finally make a gumbo and jambalaya that even my "native born" friends say is "good enough to make you slap your mama"..