About Me
I was born to migrant (Polish) parents in the western suburbs of Victoria, Australia in the early 60's. I was born to love food. My mother, a talented lady, taught herself to cook after she got married and turned out to be a wonderful cook. People everywhere rave about her meals. I am especially fond of the few traditional Polish dishes she makes. These days that only happens by special request. :o)

When I was 18, I married into a Greek/Macedonian family and so my love of food was further expanded and enhanced. Those people can cook!

Now married for a 2nd time to a true-blue Aussie guy, I struck gold again with a mother-in-law who was extremely talented in her kitchen. Unfortunately she's too elderly and unwell to weild her wooden spoon these days but I thoroughly enjoy discussing her favourite recipes and perusing her old cook books.

Food has always been a huge part of my life. I love all types of cuisines.

Hubby and I have 7 kids (his, mine and ours). At present (2008), they are 26, 25, 24, 23, 19, 11 & 9 years old. I get to practice in the kitchen a lot. Sometimes more than I really want to. LOL! The 5 older kids are no longer living at home but phone me with foody requests regularly. I LOVE it when they ask for a favourite dish to be cooked by me. I feel my job has been well done. :o) My 2 younger kids are a Mum's nightmare to feed. I don't know why, but these 2 are by far the pick-iest eaters of the 7. Still, they are asked to try new things regularly and I'm sure one day, they too will have a love of good food as the rest of us do.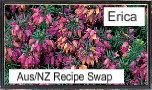 Australian/New Zealand RECIPE SWAP #22 - November 2008



Australian/New Zealand RECIPE SWAP #21 - October 2008



Veg*n Swap 3 ~ October 2008


Favorite Foods
I love ALL food. Savoury foods are my first love but I'm keen on the odd cake or two as well. ;o)
---
Over 475,000 Recipes
Food.com Network of Sites