About Me


I am a proud mother of three healthy boys aged 18,14 and 7. I'm originally from the tiny island of Bermuda and have been living in Edinburgh since July 2005.

I've been collecting recipes since I was about 14 or 15 and been cooking and baking since then as well.
I love all kinds of crafts also. In my spare time if I'm not in the kitchen; I crochet, make jewelry, bead, knit, sew, cross stitch, do plastic canvas and quilt. I have a short attention span, so I have plenty of different craft choices when I get bored of doing something. Oh, and I also like to read, listen to music, fiddle with any electronic gadget, collect dvd's and watch them, and I'm an internetaholic! :-) I keep a craft blog at http://byzula.typepad.com, and I sell my crocheted items and patterns at http://byzula.com. I keep pretty busy and being self employed gives me more time to explore cooking! :-)

I'm mostly interested in cook books featuring regular old home cooking and favorites. When I moved to the UK I had to get rid of my cookbook collection. I did keep all my Bermudian cookbooks, charity cookbooks and 'The Foods of Israel Today' and Better Homes and Gardens 'Hometown Favorites'.





I am most passionate when it comes to my family and caring for them. Getting to feed them is an added bonus! Lucky for me, my boys are steadily growing pigs with bottomless pits for stomachs! lol :-)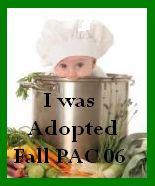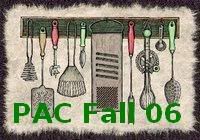 Favorite Foods
I love most foods except pork. I can't say I have favorites but definite comfort foods are mac and cheese, mashed potatoes and homemade bread. Maybe I can say starches are favorites. :-)
I'm known by family and friends for a lot of different dishes. Everyone loves something different; from chocolate chip cookies to potato cheese and onion pie.