About Me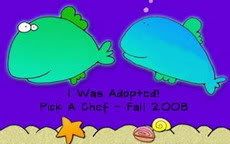 my names cheffcutie01 and it fits me pretty well.......I love to cook (hence the part about the cheff) and the cutie part is pretty true too!!! :o)
My favorite recipe?? I really don't know if I can decide on just one?? I have tons of favs but desserts are definantly my the most fun to cook!
Well that's all I'm going to put to day so
!!!!!BYE!!!!!
Favorite Foods
My fav foods are??!!! Pizza----Enchaladas---
Ice cream------pie---salad---rice---peaches----pears--apricots---kewi (pretty much any fruit!) cookie's........ya I'm not that pickey!!
---
Over 475,000 Recipes
Food.com Network of Sites