About Me
Well to start off I am a stay at home mommy of 3 kids 2 girls 8 and 5 and a baby boy who is 9 months. I discovered this site when I was looking for something new and different to cook. I like anything thats quick and easy but tasty. With a new baby I really don't have a lot of time to spend in the kitchen but got tired of eating hamburger helper lol. I have gotten a lot of wonderful recipes from this site I just feel bad that I don't have many of my own to add. For fun I used to read but can't seem the time to do much of that latley but when I do I like Patricia Cornwell. I like taking my kids to the park or beach when its nice out. I love playing with my son and watching him grow everyday its something new with him. Me and my husband like going to the movies and concerts when we can actually find someone to babysit. Well thats about it for now.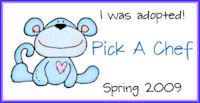 Favorite Foods
my favorite restaurant is olive garden.
i like italian and mexican foods. i love mushrooms (cooked) especially stuffed ones. So I always look for recipes with mushrooms.
---
Over 475,000 Recipes
Food.com Network of Sites