About Me
The little cutie here is Martha, the sweet lady I was blessed to have worked with for two years. Martha passed away on 12/3/08. Martha and I would ride endlessly during the holidays, and she would sing carols and laugh and just enjoy it so much. I know this holiday season, she will be with her brother, son and mother and finally be "home". Martha, I still love you more.

*******

I'm a simple girl, born of good stock. I'm the mamma of two spoiled tuxedo cats: Beauregard and Patches (the one who's been drinking eggnog). They love cuddling together, and this picture is taken on my hall steps.

I'm a firm believer in LOA. I need to get more dedicated to daily practice. Below is a film that explains it, and is wonderful. I highly recommend it.

~*~*~*~*~*~*~*~*~*~*
This is B. enjoying his computer. He's quite good at deleting messages, making the desktop disappear (as is his brother). Their path to the window is over my keyboard.




This is P., planning his strategy to keep me awake, but cuddling his sock baby and trying to be cute to throw me off.




B. works a long week. He's relaxing finally, after a beer.

mnhj

BTW, "mnhj" means "I just walked across our keyboard once again and left you a present."

~*~*~*~*~*~*~*~*~

I'm trying to figure out my new rating system. As of 10/1/06, this is how I'll rate recipes. I will be changing some previous reviews.

5*~~Outstanding recipe--the best of the best here.

4*~~Something I find delicious; will make often; would serve to guests.

3*~~Something I might fix again; enjoyed; needed something added before I try again

2*~~Something I could finish, but would never try again, regardless of additions or subtractions

1*~~Could not finish it; would not even make possums suffer with this (I haven't found many of these--only one of my own that I grabbed from the internet!!)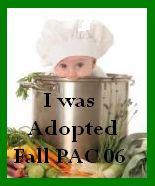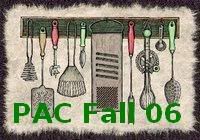 Favorite Foods
Coffee, tequila, chocolate.