About Me
Hey all! I am a weekend cook....hence the lazy gourmet title.

I'm also a volunteer junkie. My current organizations are Perverted Justice (protecting kids from cyber creeps on the internet) and the Anti-Cruelty Society.
www.perverted-justice.com
www.anticruelty.org

I've been married to a keeper who I just celebrated my 10th anniversary with. We have our furry children - right now four cats (14, 12, and two who are almost 1), a rabbit and three guinea pigs, along with my current foster dog who is recovering from a stint at a puppy mill (BOO HISS PUPPY MILLS). I do see myself becoming "that weird lady with all the animals" sometime in my senior years! Luckily I'm a vet tech so I can do free exams on my own animals.

So enjoy my recipes!

lazy
http://i424.photobucket.com/albums/pp330/LadyBlueNose/Cookbook%20Swap%20Designs/AZPCookbook2a-1.jpg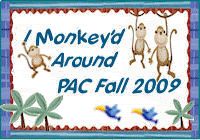 Favorite Foods
I love food. Italian is probably the best...I also love MEAT - I could never be a vegetarian, I'd die. A good ole steak and potato dinner once in awhile never killed anyone, right? Love pretty much any comfort food that is bad for you, too. I've sealed my fate. Also, the hotter the better - and the more garlic the better. Dump an bunch of chili powder on a roasted head of garlic and I'm in heaven! (I'm kidding...but only sort of!)

Oddly enough, I love shellfish and sushi (although I've never been tempted to make my own)...but I'm not a big fan of actual cooked fish. I try to get some in my diet, but I'm kind of squeamish about cooking fish. Go figure, I'm weird.

I'm not a huge sweets fan, but the hubby is. And the man can eat and I don't know where it goes...you may relate if you live in a house where you find candy/chips/junk food wrappers randomly left around.
---
Over 475,000 Recipes
Food.com Network of Sites