About Me
Given name is Lynne, married, mom of three beautiful and wonderful children, B-G-G - ages (in 11/2008) 12, 7, and 3. I work full time, so I have a very busy life. DH won't cook, so I'm always looking for 30 minute meals (and not of the Rachel Ray type - most of hers are too much work!).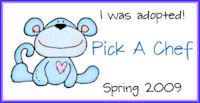 Favorite Foods
It would be faster to name my least favorite foods/foods I won't eat: brussel sprouts, oatmeal (the porridge), most custards (don't like the texture), and animal innards.

I enjoy almost all ethnic foods, and I've dined in some fabulous restaurants, but found that my tastes are really toward the simple - quality food cooked well. I'm done with the foo-foo foods. A pot roast with mashed potatoes and steamed carrots is more desirable than Roasted squab in a crystal lantern with tangerine and fermented black beans, and a ragout of Maine shrimp, shrimp quenelles, and English peas with a rich squab stock - that came from an actual menu.
---
Over 475,000 Recipes
Food.com Network of Sites