About Me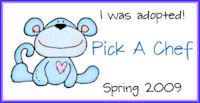 My name is Darlene and I live in Cairo NY. Which is in the foothills of the beautiful Catskill Mts.

I'm a mother of 2 grown sons and grandmother of 5.
I adore animals and am a proud owner of an awesome 110 lb. German Shepherd (Axl) & a little black cat (Beau).

I have the greatest husband in the world who is a vegetarian due to health issues.
My family started teaching me to cook when I was barely able to reach the counter top. My husband has heart disease and eats no meat and only some seafood, so I'm always looking for low cholesterol recipes.

I love to cook. I mean I REALLY love to cook. -So much so that I've often thought about opening up a small restaurant of my own. If only I were 20 years younger!!
Favorite Foods
I like just about everything from traditional to trendy and I'm always willing to try something new. Although I started cooking oldworld Sicilian recipes handed down from generations,
I have a real love for southern (U.S) cuisine as well.

Some of my best dishes include Sicilian Eggplant Parmigiana, Octopus Salad, Braciole, Chickarina Soup, Tripe, Stuffed Leg Of Lamb & Calamari.

I love trying the recipes I find here on Recipezaar and over the years have surely become a RZ junkie. This is my go-to place above any other cooking website.

I also review almost every recipe I try (and I'm a very fair reviewer)... what bugs me the most are people who don't follow directions and ad-lib their way through a recipe and then give a lousy review, or can't use common sense and adjust to taste. It's not fair to the wonderful cooks on this site who take so much time to post .

So here's a huge hug and thank you to all you great cooks who are so kind and generous to to take the time to share your best with the rest of us! CHEERS!!
---
Over 475,000 Recipes
Food.com Network of Sites