About Me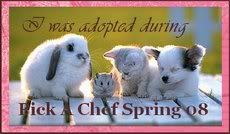 I'm a lifetime Californian. Recently remarried to the most wonderful man! I have three teenagers from my first marriage and a teenage stepdaughter. I love gardening but have a knack for killing houseplants. We have a playful Scottie and a bipolar (!) Jack Russell; we recently said goodbye to our very old and very loved kitty.
Favorite Foods
American and Mexican foods are still my favorites, although I love to sample other cuisines. My first husband was a Mexican immigrant, so I learned to cook Mexican food from him, his mother and his grandmother.

My grandmother taught me to bake bread when I was barely tall enough to reach the kitchen counter, and my mother never tired of having me underfoot in the kitchen "helping" her cook. I suspect I wasn't always that much help...especially that time I dropped the apricot pie on the way to the oven...sorry Mom!

Baking remained my cooking passion for many years, but having children finally forced me to branch out. I still prefer baking, but have come to enjoy working with the whole range of foods.

Apparently my passion for cooking has rubbed off on my children - two of them are considering being professional chefs. The older one spends so much time watching cooking shows that he's become a wealth of information - I'm learning a lot from him!
---
Over 475,000 Recipes
Food.com Network of Sites