About Me
There isn't alot to say about me... I am mother to the most beautiful 4 year old little girl I have ever seen, Bailey. We live in a small Texas town that is growning bigger and better everyday and we love it. Seeing as we are only about 30 miles from Fort Worth/Dallas we have small town living with big town flare! I just got married on October 24, 2009 to my best friend! Me and Bailey are so blessed to have a man in our lives that we can depend on. We are also so excited to be expecting a new baby girl in July 2010! Bailey is ready to take on all the challenges of being the perfect big sister!! I am in the struggle that every other woman in America deals with sometime in her life... My weight... Everyone in my family could use a dose of healthier eating, so we are all kind of doing it together. I saw this posted in a forum in the CC and just had to put it here...

God grant me the serenity to accept the low fat,low cal foods I cannot change, the courage to walk away from foods like cheesecake & pizza with the works, and the wisdom to know that this is not a quick fix but a change of life style. And Lord... Please have mercy on this body and lower the numbers on the WW scale!!!


Pregnancy Tickers


Contests & Games: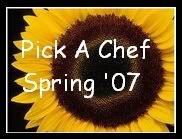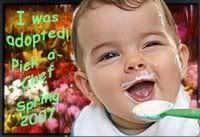 These are pictures of my pride and joy, Bailey. Can you tell that I am a proud mom??


California Internet Providers
Favorite Foods
I love mexican food! It is my all time favorite! I am from Texas so I guess I should say Tex-Mex is my favorite. I also like Italian and Asian. I can cook Mexican and Italian, but I have a hard time with anything Asian. It never tastes right when I make it. I am also a big fan of barbecue. I like anything that has been on a smoker, grill, or deep fried (ie turkey, catfish).

My favorite fruits are bananas, watermelon, pineapple, coconut, and tomatoes.

My favorite vegetables are okra, mushrooms, onions, and cucumbers.

My favorite herb is cilantro... I love it!!
My favorite dairy products are blue cheese and organic vanilla yogurt.
My favorite bread is either seeded rye or a good crusty frech loaf.

And my favorite protein... I bet you can guess... Yep you got it! Being from Texas it would be BEEF! I like chicken too, but there is nothing like a big ol Ribeye from Saltgrass!

And to top off all that, my favorite dessert is Creme Brulee! I can't get enough of the stuff. I just recently started making it at home, because I always thought it would be too much trouble, but it is actually very simple!!

This is my system for rating recipes:

***** 5 Stars - The recipe was great! I did not have to alter anything for the recipe to work. I have saved this in my cookbook and will be making over and over, most likely.

**** 4 Stars - This was pretty good. But I had to alter some of the ingredients to make the recipe work. I will make again but using altered ingredients.

*** 3 Stars - This was okay, nothing really great about it, but we won't be having left overs. I had to alter too many ingredients, and change the recipe totally. I probably won't make again and I wouldn't serve to company.

** 2 Stars - This was border line bad. Won't make again and won't finish eating it.

* 1 Star - Horrible. Could not swallow! Threw it out! Will NEVER make again!