About Me
I'm a working mom cooking for a diabetic 13 year old son (diagnosed 1/31/05), his 15 year old brother and my wonderful husband who complements me on everything I cook :-)!!

Recipezaar has become my daily companion since my son's diagnosis. Planning meals a week in advance, being able to calculate carbs, and having access to the fabulous recipes on 'zaar has changed my life. I don't know how I would survive without it.

Growing up, my only cooking instruction was in baking. I graduated college not knowing how to boil water! You may think I'm exaggerating, but really, I had never put a pot of water on the stove before. When I made spaghetti for the first time in my first apartment I used a measuring cup to labourously measure out the 4 quarts of water called for on the box, studied the dial on the stove to find high heat, and fretted over when to add the noodles and start the timer for 10 minutes. Determining the correct dial setting for the pot with jarred pasta sauce and how many minutes to cook that for was another challenge.

I've come a long way since then, and have realized that cooking is a life-long learning process. I get better at it every day! However, every couple of months I produce a 'bomb' that we feed to the dog or compost. But hey, nothing ventured, nothing gained, right?

I'd like to hear from other members who are cooking for children with diabetes.

I love the Menu feature on Zaar and look forward to when it is further developed into a calendar-based planner. (This is a sore point for me b/c 'zaar has been promising that a calendar was close to Beta for 3 or 4 years now. Urrrghh).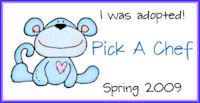 Favorite Foods
lobster, saag paneer, tuna melts, jalepeno poppers, sushi, brie, goat cheese, filet mignon, hummis, to be continued...
---
Over 475,000 Recipes
Food.com Network of Sites