About Me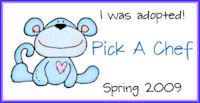 Hello!
I have been happily married for 10 years to my amazing husband Mark =)
He's the most sweet, genuine, kind, gorgeous gentlemen I have ever met and he's my BEST FRIEND! He is the smartest person I know, he is funny, and loving to me and our 2 boys and I adore him.
We have the most amazing, witty and intelligent little boys we could ever dream of.
♥Moose(7!) and ♥Butch(5!).
We are truly blessed with the sweetest most lovable babies ever.
They are our joy and our whole world. Everything we do is for them and their best interest and it's been a blessing to have such amazing sons!


I'm an affectionate girl and you'd probably find me cuddled up in my hubby's arms! I enjoy being a home-body, but love to have a great night out once-in-a-while! [Socialite]
I'm a ♥Sassy, always ♥Classy Lady and I like to keep it real :) I am so silly and I tend to talk a lot!! I enjoy laughing and making my friends laugh as well! It's an attribute of mine that I find flawless! I get along with everyone and most everyone gets along with me!
I love tattoos. I consume books...not literally.
I LOVE to cook.
I'm an unequal proportional ball full of complete sass, romantic tendencies, sarcasm and intelligence.
I am dorky, clumsy, sarcastic and laugh/giggle entirely too much (often at inappropriate times). Food makes me very very happy. Kinda kooky but hopefully in an endearing way.
I love July 4 because its about freedom, Halloween because it's about the little ones, Thanksgiving because its about family, Christmas because its about giving, and Easter because its about forgiving. Oh...I am a belly dancer and a Microbiology major =]
Did I forget to mention I have no short term memory?
Favorite Foods
I am 1/2 Greek and 1/2 Venezuelan so...my taste buds are diverse, I love Pastisio, and Arroz con Pollo con Platanito Frito.
Any Latin dish really and my favorite Greek dish is probably Spanakopita!
OpA!