About Me
Cooking, food, food preparation, different ingredients and tastes are all things that I am fascinated by. I absolutely love cooking and find making a big meal incredibly relaxing. I love to prepare food for others and entertain. I am fortunate to have many friends who are willing to try all my culinary experiments.

As an only child I have been blessed with the opportunity to experience many adult flavors and tastes at a young age. This has instilled in me my love for gourmet foods, which I consider one of life?s greatest luxuries. My favorite food as a child was escargot (and still reigns number one on my favorite food list today) which leads me to my conclusion that anyone can really like anything, you just have to try it. Because of this I try everything once. The world of flavor is so vast that I don?t want to miss out on anything that I may truly like, but was too "chicken" to try. (and yes, I have tried chicken feet)

Although I do love fine foods I am not a ?food snob? a nice squished grilled cheese made with Wonder Bread and Cheeze Whiz is on my top ten favorite foods list too.

As far as food types are concerned I really do like just about everything, especially ethnic food. I am enjoying alot of Thai and Arabic food right now and also favour Greek and South American cuisine also. Yumm! I just love food!!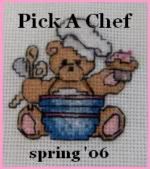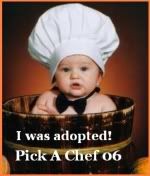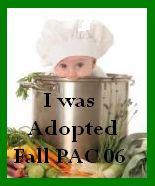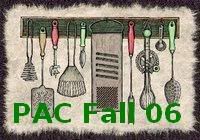 Favorite Foods
My family has always placed a large importance on food and sharing it with others. My mother is the youngest of 8 sisters and all of my aunts are fantastic cooks in their own right, as are both my grandmas. My mom, besides being a super-woman, was a caterer and coordinator for many large formal events held on my parents estate in rural Manitoba. I worked side by side with her since the age of 10 preparing food for large groups. To this day I love to cook for gatherings and would love to open my own restaurants.

My love of food also translates into a love for eating out. I like getting new ideas and trying new things at restaurants. Often a dish that I particularly like will inspire something new and exciting in my own kitchen. I am not fond of large chain restaurants and instead find it fun and challenging to discover little out of the way places with fantastic food, great service and good quality ingredients. I would LOVE to be a restaurant critic.

Restaurant recommendations in the City of London, Ontario:
Right now I'm a big fan of "Thai Taste" in London on Dundas (@ Lyle), the pad thai is phenomenal, the service is friendly and the prices are great! Other places in London with great food: Jambalaya on Richmond (terrific Caribbean food with a hint of Thai), Mykonos on Adelaide and Elias (delicious Greek food with the friendly atmosphere of a family run restaurant) and ofcourse the institution The Barakat, traditional Arabic food that is OH SO YUMMY! www.restaurantica.com is a great website that lists local reviews of restaurants in Southwestern Ontario.
<a href="http://www.restaurantica.com"><img src="http://www.restaurantica.com/i/rest-button.gif" alt="Restaurant Reviews at Restaurantica" border="0"></a><br><br>

++update++ I do not live in London anymore however I thought I would leave this up anyway++




Here is a list of zaarites aww inspiritng chef?s cookbooks I like quick reference too:
<li><a href="http://www.recipezaar.com/mycookbook/book/33539">Chilled Soups</a></li> by Queen of Everything

<li><a href="http://www.recipezaar.com/mycookbook/book/25538">Appitizers and Finger Foods</a></li> by Bergy

<li><a href="http://www.recipezaar.com/mycookbook/book/57941">THE LUNCH BOX</a></li> by CountryLady

complete recipe collections I like to reference:


CHEF MIRJ: http://www.recipezaar.com/r/chef=21752/ls=d/

CHEF DOJEMI: yummy hors d'ouevres and gourmet goodies http://www.recipezaar.com/r/chef=36187/ls=d/

CHEF CHARISHMA RAMCHANDANI: authentic indian cuisine and great household tips!
http://www.recipezaar.com/r/chef=6357/ls=d/

CHEF KEVIN BRADLY: indian and asian cuisine
http://www.recipezaar.com/r/chef=33239/ls=d/

CHEF ANELIA DOBREVA: bulgarian cusine
http://www.recipezaar.com/recipes.php?chef=70536

CHEF JOHNNEY: all American goodness, pizza I want to try
http://www.recipezaar.com/member/101391
---
Over 475,000 Recipes
Food.com Network of Sites