About Me
My fiance, Matt & I have lived in Melbourne all our lives and we love it, it's so diverse & exciting.

I've been in hospitality for about 10 years & Matt in Advertising longer. We went on a world trip in '04-'05 including the US, UK, France, Italy, Malta, Germany, The Netherlands, Egypt, India & Japan. It was awesome, but great to get home & relax too. :)

The link on this page will take you to my YouTube channel which has slide-show videos of my pics, featuring some amazing street art and graffiti art around Melbourne.

I think it's rude to leave 1 star ratings! To me it's like eating someones cooking then saying "ERGH!" to their face!! :D So we don't give 1 star ratings. If we really don't like something, then it's no stars & a description of why it didn't live up to our expectations, or we may just remove the recipe from our cookbook & leave it at that.

We like cross-promoting recipes in our reviews to share combinations that work, recipes that inspire & methods people may not have thought of.

We can't help but put something of ourselves into each recipe we try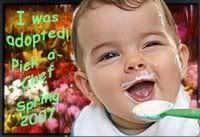 Favorite Foods
Vegetarian dishes & HOT stuff too, so Indian is probably our favourite and there's nothing like the real thing: travelling 'round India eating the most beautiful (& cheapest) food at hawker stands that puts most restaurants in our own country to shame!

I'm against desensitization regarding the meat industry: If I wouldn't/couldn't kill it, I won't eat it. I've killed animals of the sea, & can handle dealing with fish guts just fine, but anything else, I know I'd struggle with! :) There's a confronting new doco coming out this year, on over-fishing, that could change all that, though.....scary stuff.
Matt will eat meat when we go out or he'll cook a chook or a steak at home every now & then, but I'm certainly not washing those dishes!

We have a veggie patch & like to cook from scratch where possible, so don't do recipes with canned soups, sauces or pre-packed cake mixes.