About Me
My Father Passed away June 2, 2012. He loved cooking and really enjoyed this site. Please enjoy any of my Dad's recipes. I will keep this site going in his Memory! Sincerely his Daughter Tanya
****Thank you to all who particiapated in the Papa D cookathon honoring the memory of my father. I am deeply touched! He would be so honored!
http://www.food.com/bb/viewtopic.zsp?t=376528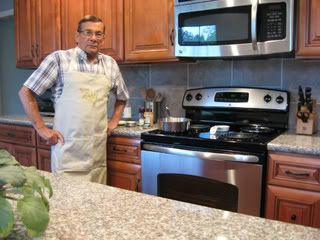 On October 27, 2011 I was diognosed with lung cancer (Squamous Cell Stage IIIA) one of the two most common lung cancers. It is not operable because of the location of the mass so chemo and radiation are the treatments I'm going through now. Here is a link to my blog for this. My new chapter in life

Hi. I was born and raised in Montana. I'm retired after serving in the Navy for almost 27 years and then worked contract maintenance as a A&P mechanic for U.S. Customs drug intervention program for about 10 years.
I live in North East Florida on 5 acres in the country. I have enjoyed cooking for as long as I can remember. Thanks to everyone that has tried and reviewed my recipes.
My Interests:
My puppy dogs, vegetable gardening, yard work and sitting under the shade tree in the afternoon with an ice cold Miller Lite.




Oh did I mention cooking….which will include but not be limited to…grilling (BBQ), smoker, stove top, oven, deep fryer, wok and crock pot.
You can type in the degree symbol ° by holding down the Alt key and typing 248.

I'm a hugh NASCAR fan. In the fall I follow the NFL and some college football.
My Indian name is "Walks with beer"
My review guidelines are as follows:

5 stars - Wonderful ! Perfect as posted and plan to make this recipe again!

4 stars - Very good, liked it a lot, made some adjustments for my preferances, will make again.

3 stars - OK but to make it again would require changes to the original recipe to suit my tastes.

2 stars - Really didn't like it. Could be personal preference or the recipe just didn't meet expectations.
I was Chef of the day October 15, 2008

Free Counter 014302
My puppy dogs Sophie and Indy
Slide shows of places I've been during my Navy career.