About Me
Hi! I am happily married with a 20 year old son & a 6 year old daughter. I have been the Food Editor for the Mill Creek View Newspaper in Mill Creek, WA for almost 4 years. To read some of my columns from the newspaper, go to my blog at Tink's Treats.
Here on Food.com, I am a forum co-host with Katie in the UP in the Kitchen Gadgets & Appliances Forum. Come check it out!
In Summer of 2011 I won my first RecipeZaar/Food.com recipe contest! The Dining on a Dollar contest featured the under a dollar ingredient of zucchini. My First Place recipe is Spicy Zucchini Omelet and the other recipe I submitted is Mexi-Ghetti.
These are some of the demos I've done here on Food.com:
48 Hours with the Magic Bullet
Holiday Apples - Fun & Fast! Peeler, Corer, Slicer Demo
Lorilyn's Dinner Roll Dough & Taco Ring Demos:
Cherry-Almond Baked Oatmeal Demo:
Here is a bit about me...I love to cook, bake, quilt (machine piece, hand quilt), ceramics, wood crafts, create greeting cards and scrapbook our family memories.

I have been licensed in cosmetology and radiology and have worked in many different fields from waitressing and dry cleaning to sales auditing and office managing for multiple alternative care doctors. I practice level 3 Reiki, as well as other types of energetic healing. I started a gluten free bakery from scratch and it was my dream job, but I am no longer working outside the home. My time these days is full with going back to school for my bachelor's degree in child development and volunteering at my daughter's charter school.
I am a recipe junkie! Cookbooks, magazines, magazine clippings, you name it. I have been a loyal subscriber to the Taste of Home magazine since 1994 and until I found Recipezaar, that is where i found most of my favorite recipes.
In October 2011 I got a big surprise when I received the annual hardbound holiday book from Taste of Home with a letter saying they had printed one of my recipes. The book is called the Taste of Home Holiday & Celebrations Cookbook and the recipe they printed of mine is Artichoke, Spinach & Sun-Dried Tomato Dip, a recipe created for the Recipezaar (Food.com) Ready, Set, Cook! contest, RSC #11 in January 2008.
Even though I'm famous for tinkering with any recipe, I've become a bit of a stickler about trying to use the exact ingredient & exact measurement on a new recipe just so I feel the review is as honest as possible. But, subs happen. lol
I've also made more of an effort to write down the ingredients in those, Don't know what's for dinner, but we'll throw in a bit of this & that! recipes. Although, this habit is definitely a work in progress. It never fails, the night I'm too tired to write it all down as I do it, my family will rave over it & request it again.


I am a self-taught cook. I've had many people make comments about how my mom must have been a great cook. And no doubt, she is. But that's exactly why I didn't learn from her. My philosophy was: Why did I need to be in there helping her when she made everything perfectly to begin with?
It wasn't until my first year of marriage (DH#1). I was giving a friend a perm & was irritated that she had to keep getting up during the wrap to stir something on the stove. Finally, when dinner was done & we sat down to eat I realized she'd been cooking hamburger for spaghetti. I was shocked! I thought to myself, Ah Ha! So that's how you make hamburger! I can do that! So I made a trip up & down every aisle at the grocery store with a pound of hamburger in my hand, wondering, Now what do I do with it? That's when I saw a magical box of Hamburger Helper!
Ahhhh, the old days. We ate hamburger helper nearly every night for a year & then I thought I'd puke if I had to eat it one more time. There HAD to be something else to cook!
That's when I dug out that one Betty Crocker cookbook I got for our wedding. I just started following the recipes. After that I was hooked. I've also had people compliment me on my cooking & I've always just said, I can follow a recipe. That's all. At least until I discovered how much fun it is to create my own recipes.

My biggest cooking tragedy: Eating hamburger helper for a year.
My biggest accomplishment: When I very first widened my horizons as my dad used to say to me about trying new foods. I tried a recipe & loved it. It was a delicious grilled vegetable sandwich. Not a hard recipe, but I was a beginner & by the time we'd eaten it was 11pm. I called my dad & woke him up to tell him I'd just eaten eggplant... & I LIKED it!

Here are a few photos of the special people I like to cook for:

Bryan & I got married in Aug of 1998 & our reception was at the top of the Space Needle in Seattle, WA.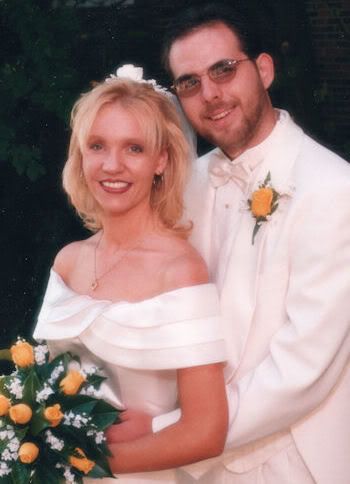 Nick & Sophie (14 & 1) Sophie (3) Go Broncos!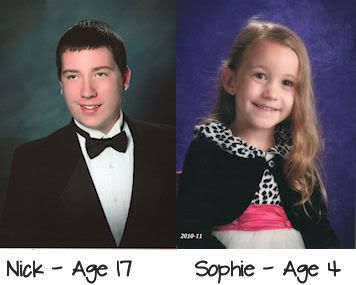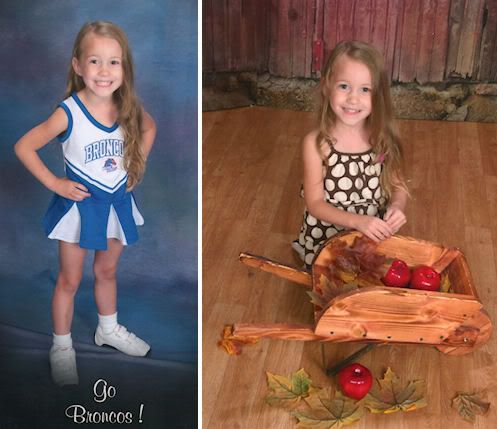 Favorite Foods
My family's favorite comfort meal is Beef Rouladen and dinner rolls made from my recipe for Lorilyn's Dinner Roll Dough. I am really a meat & potatoes kind of gal but growing up in Seattle I love fresh salmon, shrimp, crab & lobster. Besides the salmon, I don't usually cook the seafood at home, just enjoy them when we go back to Seattle for visits. I love baked goods & prefer to make them homemade. I have a huge weakness for Krispy Kreme apple fritters, but all donuts can stop me in my tracks. My mom & I started decorating all occasion & wedding cakes together in 1989 or 1990 & since moving to Boise I really miss those times.
I am probably most famous for my dinner rolls. I had been making them by memory for 20 years & around 2006 I found the original scratch paper the recipe was written on; only to find that what I'd been making from memory had strayed so far from the original that it was it's own recipe entirely! So I posted the recipe I accidentally created, to avoid my memory going astray & changing it again! All the kids in our family love to help make rolls & although it can get a bit messy they have a great time & I love spending the time with them. I love that my son, my husband & my brother in law all are willing helpers in the kitchen. I love to learn & teach new things & it's just so much fun to have a cooking buddy.

I am also an admitted chocoholic (milk chocolate). Not looking to recover.

We moved from the Seattle area to Boise, Idaho in November 2000. We love the friendly people & the sunshine here, but miss our favorite fondue restaurant in Woodinville, WA, The Melting Pot. I like Mexican, Chinese & Thai foods. Love spicy food! Ate it with both my pregnancies & both kids can eat pretty hot foods now.

Our family loves to camp in our travel trailer during the summer months, ride ATVs and just relax & enjoy the nature all around. But my favorite part of camping is having all that time to cook! I've always said that I can't eat hot dogs every day & I don't see why we would have to forgo tasty homemade meals just because we are away from home. Of course, it helps to have a microwave, range & convection oven in the trailer. lol
So far I haven't found anything that I can't make while camping but I do tend to make a lot of foods & dough before we go, pack most of it with the FoodSaver & then put them together or roll them out while camping.

I know when reading a recipe if my family will be receptive of it or not & tend to stick with those that will suit our tastes. Every once in a while I will go wild with an out of our box recipe & when that happens everyone is willing to trust my judgment & give it a try. I love that about my family.

My general review guidelines are as follows:

5 stars - Loved it! Perfect as posted & already have requests or plans to repeat this recipe!

4 stars - Liked it a lot & will make again but will probably alter the recipe slightly. Or the recipe ingredients or instructions are incomplete or difficult to understand. (I possibly made minor tweaks for personal preferences (usually adding extra spices, garlic or onions & decreasing or omitting cheese 'cause DH doesn't eat it), or slight alterations due to differing ovens,size of eggs or fresh squeezed fruits; but these things do not count toward star ratings.)

3 stars - Liked it but to make it again would require a major change to the original recipe to suit our tastes. Possibly will make again sometime.

2 stars - Really didn't like it. Could be personal preference or the recipe just didn't meet expectations.

If your recipe gets 2 or 3 stars I'll always explain why & I will never leave a negative review due to errors, major changes or substitutions on my part.

Thanks for taking time to learn a bit about me. If you have any questions feel free to zmail!