About Me
My name is Karen and I live West of Chicago (on the edge of no where!) with my DH, our two German Shepherds, and our two daughters. I love to golf, garden (except for the weeding!), am addicted to romance novels (and good science fiction), and I love to bake--usually cakes from scratch when I have the time! Since getting married, I have been cooking a lot more and am having a lot of fun trying new recipes! And now that I have two little ones, the slow cooker is my friend! The girls take a lot of time, but they are worth it!

The dogs are my babies too--though they are about as big as I am! It has been a bit of a challenge at times, as they both have severe hip dysplasia, but they are great dogs and I have learned so much about arthritis! I have also learned a lot about cancer, as our female was diagnosed with bone cancer. She is now on three, but doing great post-chemo. They are both great with the kids and love to ***** little hands and feet! and noses! and ears! and...!

I participated in the 2006 Fall PAC--and what a great game/program/thing! So much fun!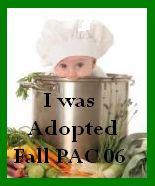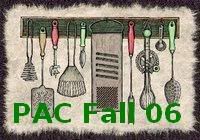 Favorite Foods
I don't know as though I can pick just one type of favorite food... but I have to say that I have loved all of the recipes I have tried from Alton Brown--he is my hero! (And he has even inspired my DH to pay more attention to the food he eats!)
---
Over 475,000 Recipes
Food.com Network of Sites