About Me
I hadn't lived alone in over thirty years. One of the first things I learned was that I'm a good cook. The next thing was that it's exremely hard to cook for one. The solution seemed obvious: invite people to eat at my place. Often!

Not only did I enjoy the company, but the company always seemed to eat with enjoyment, even gusto. Many of the younger folk, I grew to believe, have just never had homey, old-fashioned cooking. They often react to the meal as if I had performed some feat of magic.!

ANCIENT HISTORY: I taught high school drama (and English, and once in a while other subjects) for almost 28 years. When I decided I'd had all the fun I could stand, I retired at the ripe young age of 53.
MODERN HISTORY: I've developed a small clientele who insist on paying me for various graphic design, web design, copywriting, and marketing jobs, and returned to my passion for the theatre. I've also expanded my musical explorations by adding my first steel-string guitar to my old standby classical guitar. Also have a mid-grade electronic keyboard, a baritone and a soprano ukulele, and even one of those Marine Band harmonicas from Hohner that I used to have as a youngster.
Since separating from my wife, I've learned--for the first time--what living alone is like, the good parts as well as the not-so-good.
If there's anything to those ads on TV with the laugh-so-much-they-fall-over babies, I must be set to live to at least 150 years old; I laugh an awful lot! And I've learned that crying is okay, too, and actually can make a person feel better.
Never expected to be involved with anything like the 'Zaar, but I'm sure glad I stumbled across it. Lots of terrific recipes, and even better people.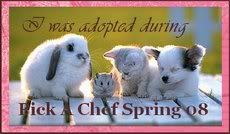 Favorite Foods
I reckon I'm known among the folks in my crowd for what I call ?comfort food,? things that I always just took for granted. I've built a reputation among my best friends and most frequent guests for having acquired somehow, somewhere, the knack for ?making it look easy,? when all it really takes is careful menu planning which allows for a great deal of advanced prep.

If I'm famous for any one dish, I suppose it would be my deep-fried chicken. It's the recipe I grew up with, first in my grandma's kitchen, then my mother's, and it's so simple that people think I'm lying when I tell them how it's done.