About Me
I love to cook, and then eat! I have been cooking since i was about 6 years old, i remember climbing up on the counter tops and rummaging through the pantry for anything that would mix. i don't know if you would call that cooking per say but i was experimenting in the very least. I really learned how to cook in about the 5th grade when my parents got a divorce and my mom would get home late from work, so i would make dinner and have it ready for her when she got home. My mom taught me the basics and all the family recipes, she is an awesome cook and mother.
I really like to experiment with recipes and try new foods. I love to share my recipes with my friends and co-workers, we trade recipes at work all the time, and sometimes bring in food to share. Everyone at my work says i should go to culinary school, and if i could afford it would go.
My husband always says how lucky of a guy he is that his wife can cook, since so many young girls have no interest and their mothers never taught them. I love my husband he's my biggest fan (and critic), but mostly fan.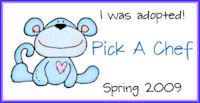 Favorite Foods
Everything under the sun! I love homemade macaroni and cheese, homemade pizza, and well basically anything homemade. Nothing beats a good pot roast or anything from a crock-pot, they are my best friends.
---
Over 475,000 Recipes
Food.com Network of Sites