About Me
I am originally from Spain, but currently live in New Jersey, US, with my boyfriend.
My childhood was very different from most folks. I was raised in Europe, in various countries including Croatia, Spain, Belgium and the U.K. I am lucky to have travelled a lot, and experienced various cultures and traditions.
Food was always an important part of my childhood. Coming from a Spanish family, everything revolved around food.
I am addicted to searching the web for recipes, as well as, buying cookbooks online or local bookstores. So far, my favorite cookbooks include The Pump Energy Food, Cyprus Cooking for Friends, Aromas of Aleppo, Puerto Rican Cookery, Barefoot Contessa, and Memories of a Cuban Kitchen. I read cookbooks, like most people read novels. When I travel, I always try to read up on local restaurants and foods, and try to buy cookbooks that include local recipes for that town, city, region or country.
Every couple of months, I pick a country or cuisine, search for recipes and invite my friends to try my findings, and call it a theme night.
When choosing a recipe, I look for unique flavors, textures and colours.
For the most part, the recipes, I post are from foodtv.com, food magazines, family and friends. I have a couple of my own to add, but find myself not jotting down the measurements to add a recipe to RZ, or feel I have more tweaking to do before posting.
I have been a member of Recipezaar since 2006.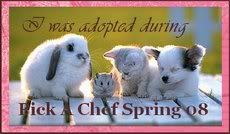 Favorite Foods
I love all kinds of food, and therefore, I have a lot of favorites. Like all Spaniards, I love typical Spanish tapas, such as tortilla, chorizo, jambon serrano, croquetas and gambas (shrimp). Along the same lines, I love anything Mediterranean (Greek, Italian) and Middle Eastern. My mother's influence (Puerto Rican) attracts me to Puerto Rican and Cuban food. Thanks to my international college friends, I love Indian and Thai food to bits.